World On Fire: New Innovations to Help Deal With the Wildfire Crisis
The COVID-19 pandemic has understandably been at the forefront of the public's conscience over the past eighteen months. It's shaken economies, rocked personal finances, and completely transformed our day-to-day lives. Yet, while our media's focus was largely snatched by the pandemic, nature continued to wreak havoc on millions in the form of wildfires. The year 2020 might go down in history books as the year of COVID-19, but it was also undoubtedly the year of fire.

Uncontrollable, destructive, but sadly predictable due to our changing climate and our impact on the world, wildfires are becoming a dreaded fixture in calendars around the world. As we went into the pandemic, 45 million acres were being scorched in Australia's annual fire season. In Serbia, a record amount of carbon dioxide was released into the atmosphere as rich peatland burned for weeks on end. And let's not forget North America's wildfire season, which the National Interagency Fire Centre (NIFC) estimates consisted of more than 41,000 wildfires covering 4.8 million acres. As of August 26th, 2021, there were 26,000 personnel deployed dealing with 88 large, active fires.

The pandemic has also made general incidents of domestic fire more common, presumably because more people are attempting to work from home, distracted, adapting to new routines and environments. In the UK, for instance, fire teams attended more than half a million incidents throughout 2020, with more than 150,000 of them regarded as serious fires. This, of course, strains our fireteams even further.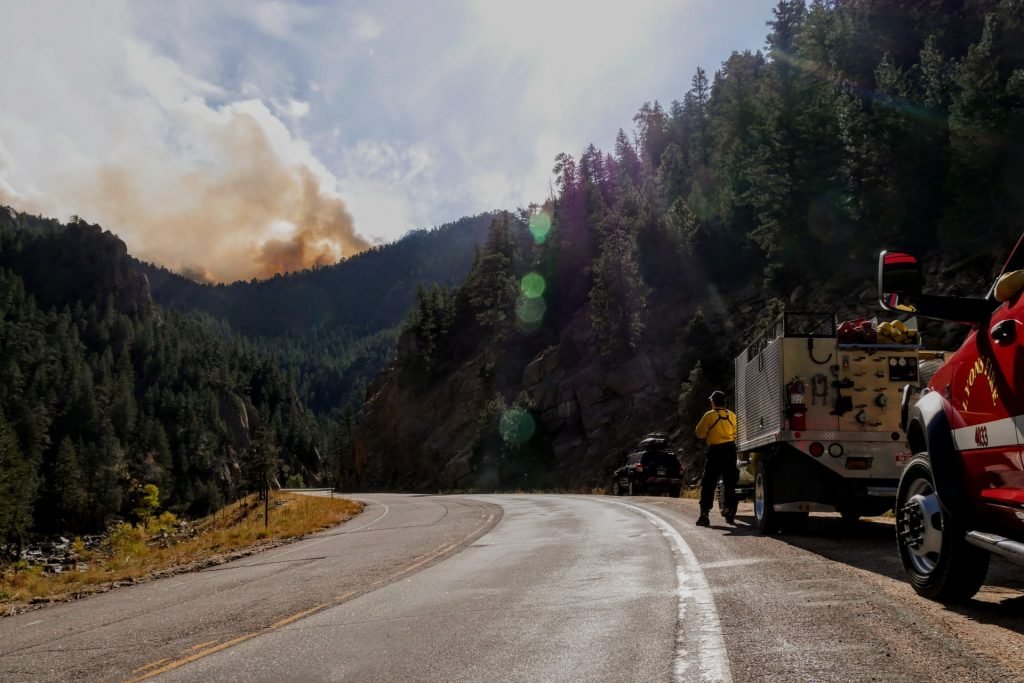 Gearing up
While we can make provisions to reduce domestic fires and mitigate their impact, using fire doors, training and other safety measures, wildfires cannot be tamed or discouraged. Our impact on the environment has been so profound over the past few decades, that even if we were to use every tool at our disposal to reduce our environmental footprint and halt global warming, fallout such as wildfires and other adverse weather patterns would still be an unavoidable part of life. Our best option is to gear up, protect lives and deal with the crisis head-on. Here are just some of the latest innovations that could help us on our mission.

Eyes in the sky
Using satellite technology to predict fires and help combat them isn't exactly new, but it's a technology that needs more investment if it's to reach its fullest potential. The Australia-based Fireball International's satellites detected the 2019 Kincade Fire in California just a minute after it started, allowing fire teams to spring into action earlier than they might otherwise have been able to. NASA's satellites can also measure thermal signatures, figure out how hot they're burning and how long they're likely to continue with the given fuel available to them. The issue is that this technology is currently privately operated in certain regions, and while that does some good, investment in better infrastructure that governments and fireteams themselves can access would be a huge leap forward when it comes to combating wildfires.
Preventative gel treatment
Some very clever people at the University of Stanford in the US have developed a preventative treatment in the form of a gel that can be dusted over wildfire-prone vegetation to make it moderately flame-retardant. While not a complete cure, spraying vegetation with this cellulose-based gel can dramatically reduce the severity and spread of wildfires without harming the vegetation itself. What's more, the gel is comprised of materials that already meet standards for food, drug, cosmetic and agricultural products. The problem? It needs to be applied via the air in a plane or helicopter, making it an incredibly expensive solution not easily accessible to local or even federal governments.
Boots on the ground communication
How many fireteams communicate with one another by shouting over large distances? It's surprisingly common for boots on the ground teams to yell instructions to one another in noisy, mission-critical environments where handling a push-to-talk radio device is simply too cumbersome or expensive. Firetimes want to be focused on the job at hand, with both hands available, rather than fumbling with electronics to relay instructions. The answer might well lie in mesh communications technology, which is already being rolled out in a wide variety of use-cases from hospitals to warehouses. One of the greatest advantages of wireless mesh communication is that it operates as a self-sufficient standalone network, with no need for a 'base station' and zero dependence on cellular reception. It can be voice-activated, making it perfect for hands-on teams, and allows two-way hands-free communication at ranges of up to 3,000 meters. What's more, mesh communication devices are small, and can be easily integrated into existing PPE like helmets, ear protectors and overalls. When it comes to containing fire, teamwork is essential – and that requires barrier-free communication. 

2020 might go down as the year of the pandemic, but as we emerge from the global health crisis it's critical that we start to reevaluate our relationship with fire, and that starts with embracing the technologies at our disposal.